My sex appeal goes beyond the length of my skirts: Deepika Padukone
Actress Deepika Padukone maybe struggling to make time from her busy shoot schedules to attend the Olympics in London, as she admits, "I would really love to go for the Olympics and cheer our players there."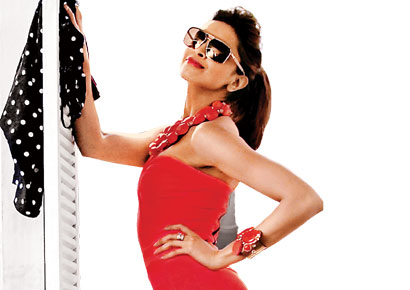 However, with the hectic pace of her work that may be a tad difficult for the actor. Shooting back-to-back first for Ayan Mukherjee's Yeh Jawaani Hai Deewani with actor and ex Ranbir Kapoor, and then for Race 2, the actor reveals that at present, work's taken all her space. And all personal matters — including that of the heart — have taken a backseat, but the actor says that she has no complaints about that. "I am really happy not having any time for personal space," Deepika lets in.
As for her professional space, the actor's on quite a high with the kind of response her sexy act and performance has been garnering in her recent release Cocktail. "I am overwhelmed with the reactions," says Deepika, who's had many of her peers in the industry put aside their competitive streaks to congratulate her for it. "But I think the biggest compliment for me was people believing that the role was actually an extension to the real me, when the truth is that I am hardly the person I portrayed on screen. I am no wild child and the only 'wild' streak I probably ever display is when it comes to taking risks by opting for such roles in the first place," elaborates the actor.
But performance apart, what also grabbed eyeballs was her hot bikini bod. "That was a lot of hard work there, but no big deal really," laughs the actor. So would she be game to wear a bikini again on screen? "Certainly, but I need to have the kind of faith in the filmmaker that I had in Homi (director Homi Adjania). I couldn't have done it had I not trusted him. I was confident that he would not make that the highlight in the film, because there was more to my character than the bikini. And I am glad that the role is being talked more for its emotional journey than for that scene alone," she adds.
As for being comfortable with tags like sexy and hot, Deepika says that she finds nothing wrong in being called sexy at all. "I think every woman digs that whether she admits to it or not and I believe that all women are naturally sexy too," she says. But ask her what she thinks is sexy about her and pat comes the reply, 'definitely not the length of my skirt'. "I think it's all about confidence and self-belief. The length of the skirt has really nothing to do with being sexy and my sexiness definitely goes beyond that. Why, I think I look super-sexy in a sari too. Women can look as sensual in a sari," smiles Deepika.