Bipasha Basu is explosive on the first poster of Raaz 3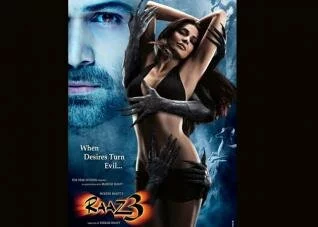 It's raining sexy film posters. First, Kareena Kapoor left a trail of dropped jaws with her provocativeHeroine first look. And now, Bipasha's taking over with the poster of Raaz 3.

The third installment of the horror series from the Bhatt brothers also stars Esha Gupta and Jacqueline Fernandez, but it's all Bipasha on the poster. Oh yes, and Emraan Hashmi, without whom there is no making a Bhatt movie.
 

Bipasha, an old hand at playing seductive characters in films such as Jism, Ajnabee and No Entry, displays her impressive body on the poster of Raaz 3 grimly watched by Emraan. And since this is a horror movie, disfigured, demonic hands encircle her from behind.

Bipasha also appeared in the first Raaz (2002), opposite then boyfriend Dino Morea. She was absent from the sequel, which featured Emraan and Kangna Ranaut.